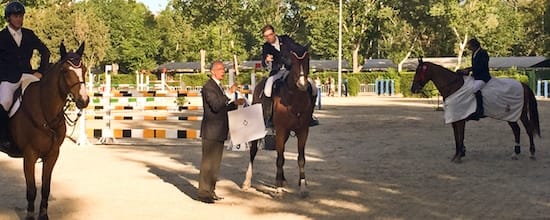 Success for The meeco Equestrian Team and its new horse
Past weeks have been very busy for the members of The meeco Equestrian Team sponsored by The meeco Group . From the 8 th  of May to the 10 th , the team participated in a prestigious CSN5* competition in Toledo. Then, from May 15 th  to 17 th , riders of The meeco Equestrian Team jumped at an international CSI2* competition in Madrid.
Our riders kept up once again with a huge number of competitors in both events and achieved good results with several classifications and clear rounds"
The meeco Equestrian Team coach, Wilhelm Bettinger
In Toledo, where the CSN5* competition celebrated its twenty-first edition, participants could compete in four daily official classes (from 1.20 to 1.50 metres). The meeco horses Suncarrier Rubina and OurSun Lacoste distinguished with their riders by reaching a good 6 th  and 7 th  place in the 1.20 metres class. They had to jump against a broad field of competitors of 58 other horses. Though numerous challengers entered the 1.30 class, The meeco Equestrian Team attained a 10 th  classification amongst 82 participants thanks to OurSun Cariana, a Holsteiner mare. Moreover, the new horse of the team, OurSun Caretanus 2, accomplished a clear round in the 1.35 class and achieved the 15 th  place out of 62 other participants.
As a highly important competition, the international CSI2* tournament in Club de Campo Villa de Madrid proved to be a real challenge for The meeco Equestrian Team. "I was confident, that we will do our best to succeed", says Wilhelm Bettinger. "I'm very proud of winning a third classification in the 1.20 metres class with Suncarrier Rubina within 56 competitors. In the same class, OurSun Caretanus 2, the new seven years old Holsteiner gelding, and OurSun Queeny Rubin, our Hannoveraner mare, made a clear round." With very good times (just a few milliseconds behind the winner) and clear rounds, two meeco equestrians reached in the Small Premium Tour (1.30 class) a 4 th  and a 5 th classification, with their horses OurSun Lacoste and OurSun Cariana. Besides, the horses Sun2safe Cassara and OurSun Inkognito jumped a prosperous 1.30 metres class without any mistakes and ranked at the 10 th  and 12 th  place.
For participants under 17 years old, who competed in the 1.35 metres course on Sunday, the riding club especially opened an additional classification. One of our youngest meeco riders excelled by achieving the 3 rd  place with OurSun Lacoste and received a nice bridle."
The meeco Equestrian Team coach, Wilhelm Bettinger